Choosing A Word of the Year:
THAT STICKS FOR 2023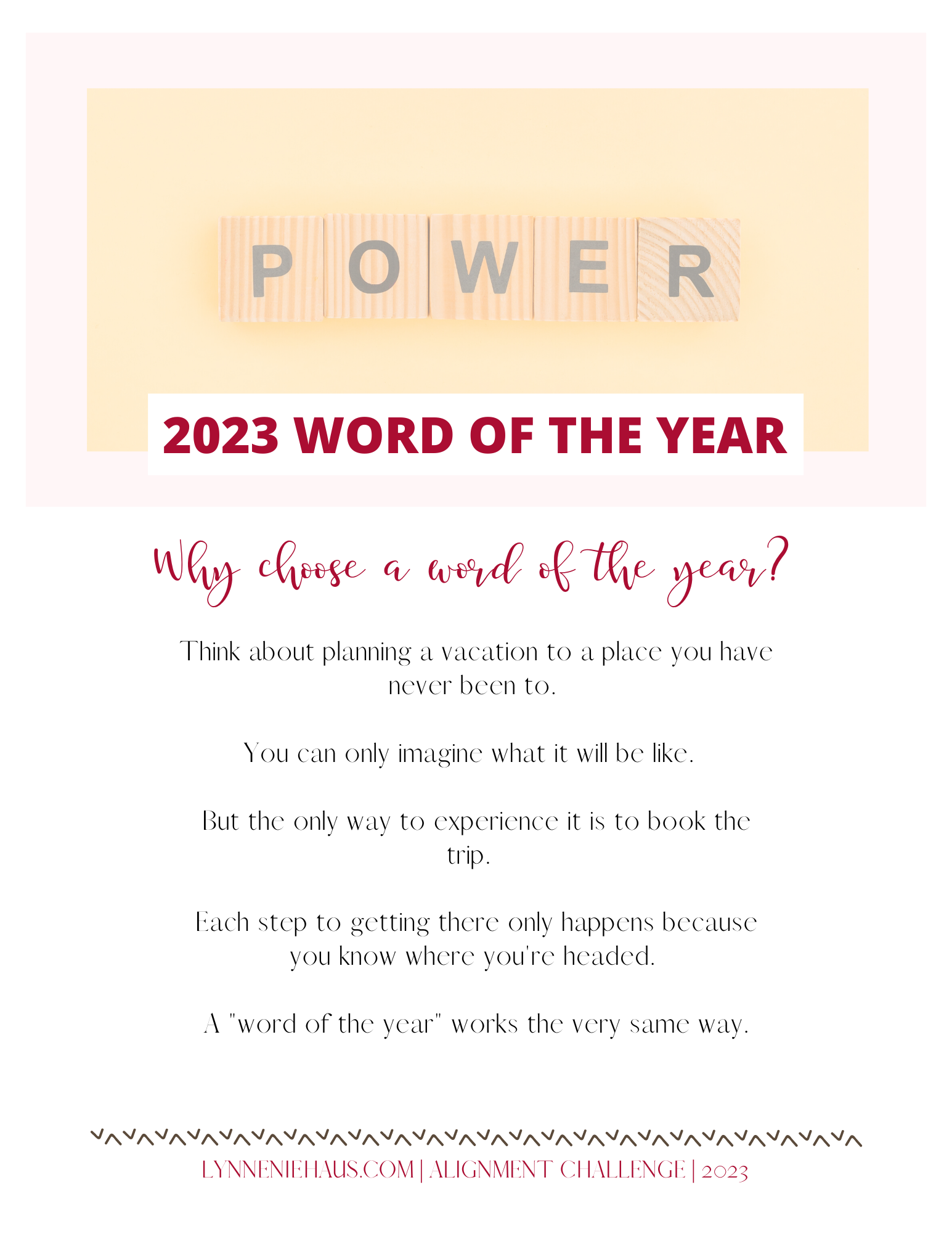 The WORD OF THE YEAR WORKBOOK
walks you through all of the steps outlined in the podcast to help you find your guiding light for 2023!
This guide is truly an over-achiever's guide to choosing a Word of the Year.
In this episode, I guide you through: 
Why uncover your "Word of the Year" for 2023?
New Year's Resolutions never worked for me.
If I decided I wanted to do something, why should I wait until January 1st to start?
And there is as much chatter about abandoning resolutions as there is about keeping them.
Over the years I have looked at them more as something to create a forcefield of false drama around than something that actually moves people in the direction they want to go.
Five years ago, I chose my first truly effective word of the year, in a process similar to the one I walk through in the podcast.  Each year since I have fine-tuned the process.  And truths that I have uncovered have been more influential and directional than I could have ever imagined when I sat down that first time with pencil and paper in hand. 
The process, itself, taught me to ask for what I really wanted.
Not something I am good at.
I don't think many of us are.  Self-sacrifice is the moral nutrition I was raised on.
While I believe, with all my being, that my purpose here is to be of service in a capacity that serves the highest good of all of humanity.  I cannot do that without fully knowing myself and discovering my highest potential.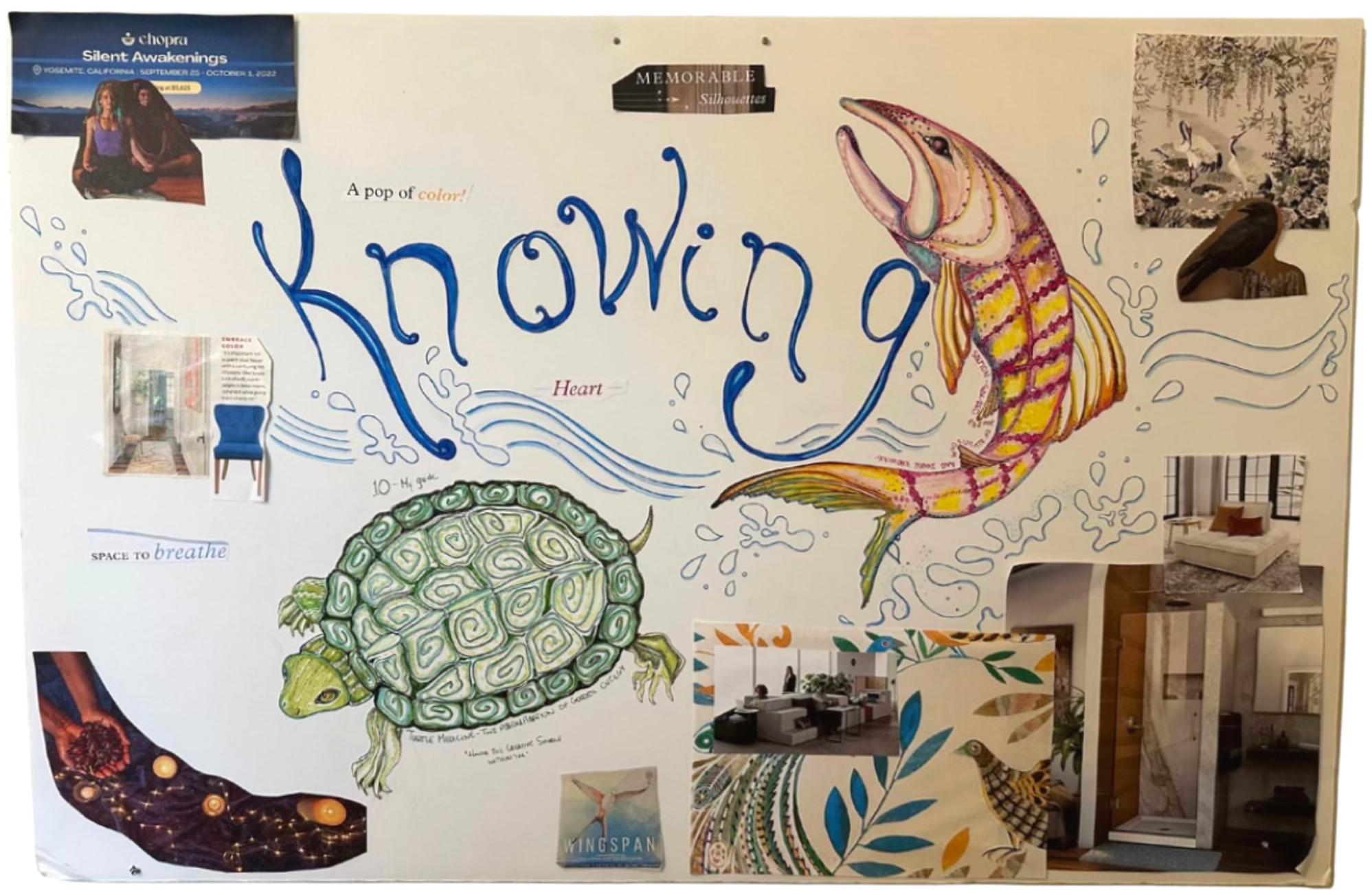 Vision Board 2022 (Knowing)
I have found so much information that I need to go forward in the process of discovering my word of the year.
I have found so much support and direction in having a word of the year. 
This year I had the knowledge I uncovered by taking "The Sparktype Test" developed by Jonathan Fields. TAKE THE TEST
I am delighted to have the opportunity to share the joy with you.
I can't wait to hear what you have chosen as your WORD OF THE YEAR! (Post it in the Forum or DM me on Instagram)
Have a wonderful Holiday!
Harness the **MAGIC** of your truest desires to walk with your best self in 2023!
JOIN THE ALIGNMENT CHALLENGE!
MAKE 2023 THE BEST YEAR EVER
KICKOFF THE YEAR WITH A FREE 3-DAY CHALLENGE TO REFRESH YOUR SPACE
IN A WAY THAT ALIGNS WITH YOUR BIGGEST DREAMS
TAP INTO YOUR INDIVIDUAL TRUTH TO DESIGN A HOME (AND LIFE) THAT WILL INSPIRE YOU
"Every great design begins with an even better story."
-Lorindo Mamo
How to Dive Deeper: 
For questions or comments on this or any other In Her Eyes Podcast Episode, head over to the Forum and get the conversation started! 


"Every time you don't follow your inner guidance, you feel a loss of energy, loss of power, a sense of spiritual deadness."
     

-Shatki Gawain
Featured Essential Oils
Balance Benefits
Adds to a relaxing massage

Creates a calming atmosphere

When diffused, provides a tranquil aroma
 ** These links are affiliate links.  Lynne is a certified DoTerra wellness advisor and can help you get started on the path to natural healing.
DESIGN A BEDROOM THAT IS AS UNIQUE AND AMAZING AS THE GIRL WHO LIVES THERE
Great design goes way beyond bedding and wall color. 

It encapsulates the needs of the girl who dreams, sleeps, and grows there. 

It supports her changing emotions and grows with her ever evoloving needs.