Designing JOY on Any Budget
WITH FIRST HOME EXPERT
JESSICA VELAZQUEZ
Interior design is about living in a home that brings you joy and inspires you.  
Contrary to popular belief, you can live in a home that you love without "being good at design" or having a big bank account.
Could your own beliefs be what is sabotaging your dreams for your home and not your current circumstances (i.e. money, design talent, kids, house size, etc.)?
My guest is an expert at helping first-time home buyers, the most "house poor" of us all, create plans that move them forward on their visions for homes that they can be proud of.  First Home Design Expert, Jessica Velazquez, shares how her journey across the continents and the commonality between all the people that she was able to help lead her to see where she could shine her bright light into the world.  By combining her experience in real estate with her training, innate ability, and passion for interior design; she could help brand new home owners take decisive action on their new home no matter the size of their budget.  She shares with you her secrets that anyone can use to begin to take action.  She even has a gift to help you at the end of the episode!
With a newly minted design degree in hand, Jessica returned to her native Panama to launch her interior design career.  But frustration with the quality of workmanship and other resources lead her to a real estate business.  She got to step into her passion to help others and experience the magic of assisting people in seeing a new path forward in locating the perfect new home for them.  As life took her and her family back and forth from North America (Canada) to Central America, Jessica recognized that the singular thing that all buyers had in common was a dream for the home that they were purchasing. 
Taking a deeper look at the reasons that she didn't take decisive design action helped her recognize that she could help new homeowners in a way that no one else was.  She could devise systems that would help first time home buyers transform their new purchases into homes that they could love and be proud of even if there wasn't a large budget to do so.  By looking at her own life retrospectively she saw how she could bring her design savvy and training to a much larger audience and help others avoid the regret she experienced by not doing the things that could have made her home a more functional and joyful place to be. 
Jessica and I have so many similar beliefs about how important your home (whether you own or rent) is to how you feel and function in life.  We had so much fun sharing our paths to discovering these truths.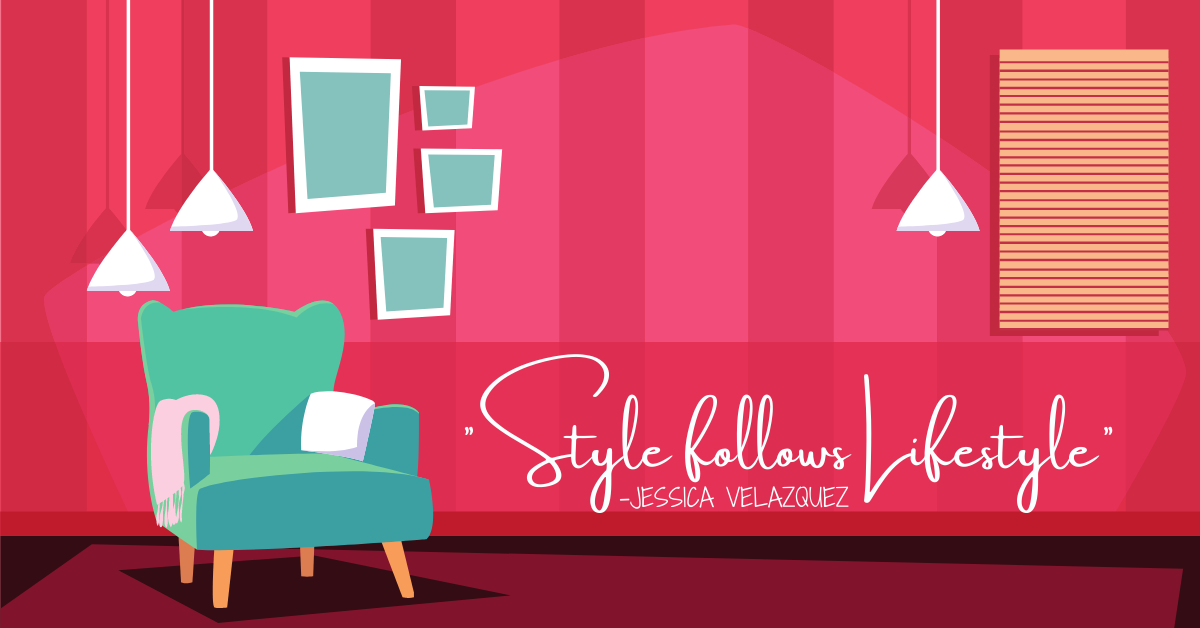 WHAT YOU'LL LEARN...
what "style follows lifestyle means"

the importance of having a design plan

how to use Pinterest for action and not overwhelm

the cost indecision and inaction

what to do when you feel like "your not good at design"

how you could be sabotaging your own dreams for your home
Here are the ways to connect to FIRST HOME SPECIALIST JESSICA VELAZQUEZ:
READ JESSICA'S STORY:
Jessica Velazquez is an Interior Designer and the creator of "The 9 Limiting Beliefs Sabotaging Our Home-Dreams" and the host of My Very First Home, a weekly live show now in its third year. She leads the virtual movement #selfcarebeginsathome, which gathers experts in the self-wellness industry to provide transformative insight into how to create a home that takes care of us and sets us up for success.

Jessica is committed to enhancing each client's unique home space so as to manifest and truly support their authentic lifestyle and personal taste. She believes that because our well-being is inseparable from our environment, improving our surroundings is a duty we owe to ourselves. Her innovative Design Pillars empower each client to take action, refine their intentions and strategize their dreams in order their pins to reality, beat decor fatigue and avoid budget regrets.


 

FOR HELP WITH INTERIOR DESIGN BASED ON YOUR UNIQUE MAGIC...
For questions or comments on this or any other In Her Eyes Podcast Episode.  Head over to the Forum and get the conversation started! 
DESIGN A BEDROOM THAT IS AS UNIQUE AND AMAZING AS THE GIRL WHO LIVES THERE
Great design goes way beyond bedding and wall color. 

It encapsulates the needs of the girl who dreams, sleeps, and grows there. 

It supports her changing emotions and grows with her ever evoloving needs.