The Power of Truth Telling:
WITH TOBI FAIRLEY

Truth is something that we say we want.  Until it makes us uncomfortable.  Or those around us uncomfortable.  
When I first decided that I needed to move away from my full-time job, I had some hard decisions to make.    Despite the fact that I loved some of the things I was able to access and create in that position, there was no avenue for growth.  
I had to lean into the faith that I would find the support I needed to launch my own business.
I always saw it as something different than a traditional interior design business.
I had become accustomed to helping people that wouldn't necessarily be hiring an Interior Designer or Decorator to help them create the vision that they had for their home.  I knew that I could use technology to reach more people and help them create spaces that inspired them without breaking the bank.  When I took the leap, I only had a fuzzy image of what that might look like.
And as the Universe always does when you allow it to, it brought me the perfect mentor to move toward a life of "health, wealth, and joy" as my guest's program promised.
Business coach, Tobi Fairley is an unapologetic truth-teller.  She believes in living a life aligned with who she is at her core.  She transitioned from an award-winning full-service Interior Designer to a Business Coach for designers and creatives like myself.  She has always been a visionary.  Bolding embracing life has kept her at the forefront of both the Design Industry and the rapidly evolving use of technology to do more with her expansive skillset.
Tobi Fairley is an innovation igniter, thought architect, and one of
the leading voices on reimagining what it means to run a successful,
creative business in an equitable and sustainable way.
As an award-winning interior designer and business consultant with over
23 years of experience helping high-achieving, creative professionals
take their lives, their companies and their spaces to the next level,
Tobi holds degrees in Accounting and Interior Design, and a Masters
in Business Administration (MBA) from the Sam M. Walton College of
Business at the University of Arkansas. She was awarded the prestigious
Walton Entrepreneur of the year award in 2009.
Though she made her name as an Interior designer and Business Coach,
today Tobi helps Designers, Coaches, CEO's and Organizations create
more health, wealth, joy and impact through her programs, top-rated
podcast, and inclusive communities.
When Tobi's not running her high-end residential interior design firm,
leading her online membership community for ambitious creative
professionals, DesignYou, or recording an episode of her top-rated
podcast, you can find her working on her upcoming book, thinking deep
thoughts about how to change the world, painting, or curled up with a
few good books and spending time with her family and 2 pups. Tobi lives
in Arkansas with her attorney husband and teenage daughter.
We follow the evolution of her personal business path full of golden nuggets of wisdom.  She drops some serious truth bombs along the way.  She reveals the moments that led to important mindset shifts that forged the path to who she has become as she creates opportunities for other creatives as she visions forward.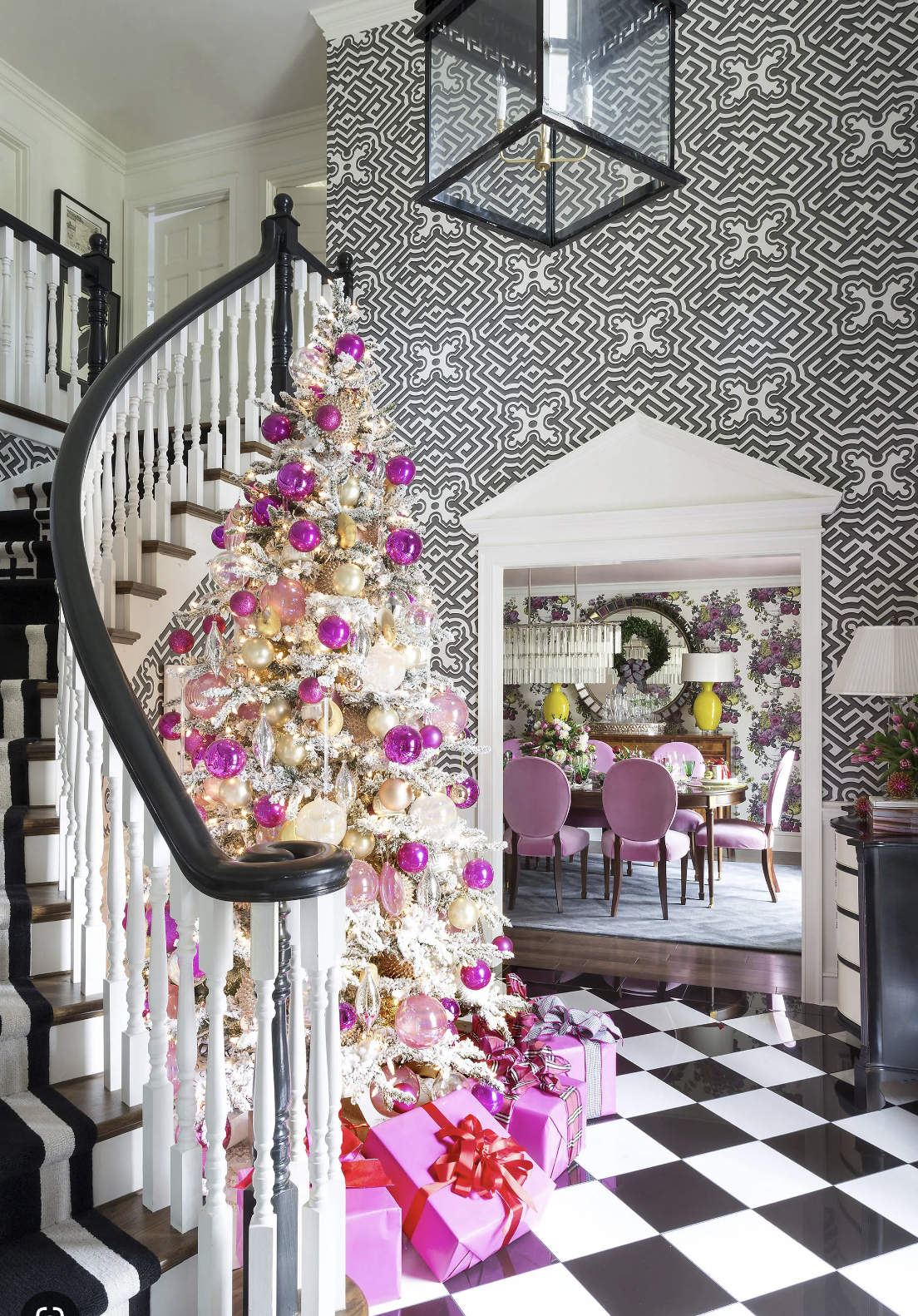 Photo credit: Nancy Nolan Traditional Home Magazine

Tobi's boldness in her use of color and pattern, which she is famous for, translates into her passion for helping others succeed.  I was a fan long before I downloaded her workbook which transformed my life and business.
You will be inspired (and maybe get a little teary as I did) when she shared how she faced the hard truths about herself in the process of supporting her daughter through the evil waters of Middle School and mean girls. 
 It's a gut punch of self-loathing transformed into self-love.
In this episode you will learn:
Why the broken business model had to be drawn for a young businesswoman to create a successful life beyond the "business."
The strengths we have as women + creatives that aren't part of that original success blueprint.
The fallout of following the wrong blueprint for success.
The mindset shifts helped Tobi transform her personal success blueprint.
The critical things her daughter taught her about herself
How the difficulties that she was helping her daughter through prepared her to use her voice in a way that aligned with her personal values.
What walking the walk REALLY means and what that looks like as a creative business owner
We laughed. We got teary-eyed.  We found power on the other side of this brutally honest conversation.
I wish everyone could have seen the light in Tobi's face as she saw her current self through the eyes of 8-year-old Tobi.  
A magical moment of what it looks like when you are living a life aligned with your truth.
It is a wish I have for everyone, especially the extraordinary hearts that listen to this podcast.
Because I know that YOU are seeking a life that is aligned with your deepest truths.
Sometimes we need someone to guide us.  Sometimes we need to be brave and embrace our own truths.  That is why I chose the essential oil roller bottle "Brave" as the oil of the week.  See the details below in the essential oil section.
Liquid courage doesn't have to be (and shouldn't be) alcohol if we are telling the truth. 
I am so grateful to Tobi for the honesty, transparency, and inspiration that she provides in this episode.  Please go find her on all the socials linked below.
"What other people
think of
you is
none
of your business."


"If you can't be comfortable with people not liking you, you're not going to get very far in trying to change major things in the world."

 
     

-Tobi Fairley
The Alignment Challenge
Stay tuned, coming soon!
00
days
00
hours
00
mins
00
secs
The countdown might have ended,
but you can still find alignment by clicking HERE


Do you wish you had someone who understood your design style?  Who could help you find the things you see on Pinterest or in magazines?  Someone who you could bounce ideas off of and help you avoid costly mistakes?  (Login for access)
**Join the Portal for just $79 and get full access for 30 days which includes 2

30-min 1:1 design/color appointments with Lynne
 Discover the Monthly Design Portal
Featured Essential Oils
Brave Benefits
Invigorating aroma

Beneficial with positive affirmations in stressful situations

Creates a confident, courageous atmosphere



 ** These links are affiliate links.  Lynne is a certified DoTerra wellness advisor and can help you get started on the path to natural healing.
DESIGN A BEDROOM THAT IS AS UNIQUE AND AMAZING AS THE GIRL WHO LIVES THERE
Great design goes way beyond bedding and wall color. 

It encapsulates the needs of the girl who dreams, sleeps, and grows there. 

It supports her changing emotions and grows with her ever evoloving needs.