Spring Cleaning That's Good for YOU + the Planet 

I always thought I was allergic to dust.
At the very least, it gave me something to be dramatic about when my mom asked me to clean.
I have also always been highly sensitive to anything fragranced.  
Over the years, its been pretty easy to get rid of the chronic migraines and dry, itchy skin by staying away from heavily scented body care and cleaning products as well as chemically fragranced candles and other home decor as I started to recognize the role that they played in my "issues."  
I remember when Yankee Candles and other heavily-scented jar candles became all the rage in the early 2000's.   I can still see myself standing outside the store, looking in to decide what I was going to dash in to buy.  I couldn't be in the store more than a couple minutes without starting to sneeze so violently that my ribs hurt.  (I also remember when I made the mistake of taking my girls with me.  They wanted to open the lids and sniff every single candle that had an interesting name.  I remember the puffy, watery eyes of a momma who didn't want to spoil their joy.) You would think that would have been my clue! 
You could always find a candle burning in my house back then.  (And an Imitrex nasal spray in my purse!)
I am so thankful that my hypersensitivity to products that we now know are disruptive to our bodies' normal functions kept things like plug-ins, air fresheners, inexpensive perfumes, and highly scented shampoos from entering our lives in a substantial way.  
As it turns out, it wasn't the dust itself that bothered me.  It was the chemicals that had attached themselves to the dust particles that caused me so much distress when they got stirred up.
But it was a trip to my aunt's house and a particularly stinky (and also EXPENSIVE!) tub of laundry detergent that finally helped me connect the dots and I started to do research.  
I was shocked to discover how many chemicals were in the very products that we associate with a clean, sparkly home (and body) that are BANNED in so many other countries!
In honor of Earth Day, I wanted to dedicate this episode to helping you discover ways to clean, that IMPROVE the health of your home and the people inside.  And, SHOCKER, those same products are fair more earth friendly than the things that we have been using for years.  It almost makes too much sense!
Scroll down to access all of the great products that I share in the episode.
"Once you learn how to see how your inner turmoil manifests itself through your surroundings, you can reverse engineer this, mastering yourself by mastering the space in which you live."

— Shoukei Matsumoto, A Monk's Guide to a Clean House and Mind

In this episode you will learn:
Where to start.
Why we should focus on renewal.
What to look for if you want to begin to detox your home.
What the word "fragrance" stands for.
How you can create renewal practice with each moon.

How to identify if "natural products" are actually just POSERS.
QUOTES FROM THE EPISODE
"Creating monthly rituals around cleaning bring positive energy into your home year round."
"Removing dust does more than just make your home look better, it removes accumulated toxins that have been lurking out of site."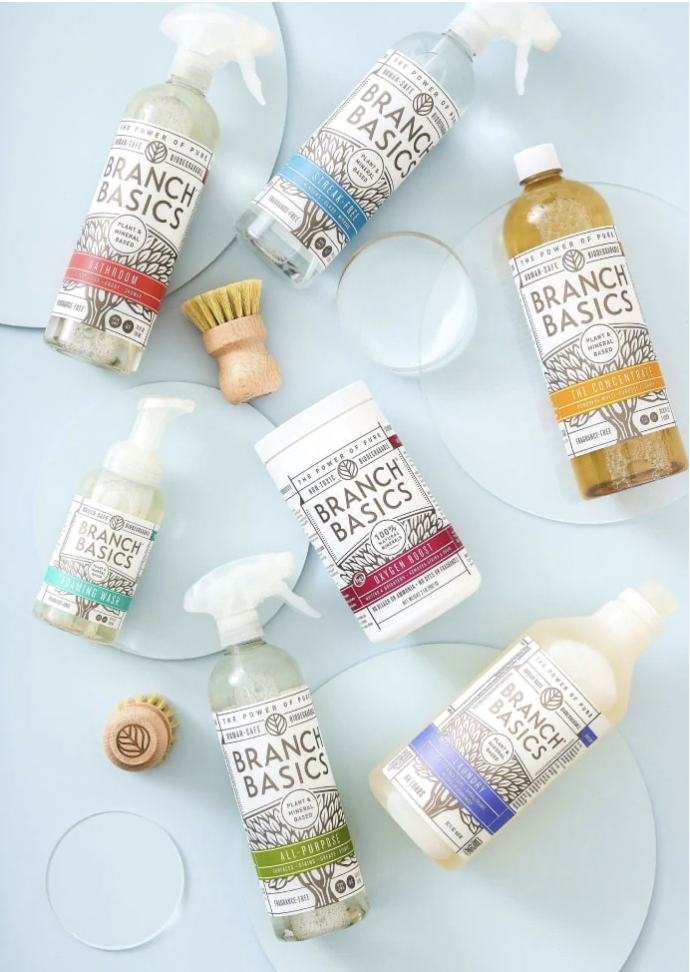 *Branch Basics uses affiliate codes to spread the word of the magic they have created.  This link is Lynne's personal discount code.  Once you become a customer you can create your own code and share the love with the ones you love too!
****SPECIAL BONUS!*****
Getting started on spring cleaning can be daunting.  Especially if you aren't in the right mindset.  This month's special guest is Ingunn Ytterhus.  She will be conducting an online breathwork session which will be free to all members of the Monthly Design Portal.  It is just one of the amazing perks of the Monthly Design Portal Membership!  If you are a current member of the Portal, you will be able to register for the session on the Membership Page. (Login for access)
When:  THURSDAY, APRIL 28TH
6:30 AM EST (lasts approx. 75 min)
(REPLAY WILL BE MADE AVAILABLE BUT THE ENERGY OF DOING THIS IN COMMUNE WILL BE EXTRAORDINARY!)
**Join the Portal for just $79 and get full access for 30 days which includes 2
30-min 1:1 design/color appointments with Lynne
15% off Osbourne and Little Designer Fabric and Wallpaper!
in addition to the Breathwork Session ($150+ value!)
   Join the Monthly Design Portal 
DESIGN A BEDROOM THAT IS AS UNIQUE AND AMAZING AS THE GIRL WHO LIVES THERE
Great design goes way beyond bedding and wall color. 

It encapsulates the needs of the girl who dreams, sleeps, and grows there. 

It supports her changing emotions and grows with her ever evoloving needs.