Artist and Color for Your Home

WITH ARTIST BARBARA MAYFIELD
If you have ever wondered why you may struggle to pick wall colors or hang art in your home, this podcast is for you.
In this episode, my guest is a fellow artist and color-obsessed momma.
Visual artist, colorist, writer Barbara Mayfield was born and raised in Philadelphia, studied at the Tyler School of Art and is a graduate of the Pennsylvania Academy of the Fine Arts.
She works in oil and acrylic on canvas, panel and paper, as well as assemblage. Her luminous imagery celebrates the natural world and our place in it. She authored and illustrated The Magical Mrs. Iptweet and Me, an award-winning novel for the grade-school set about the joys and power of creative play and community (Published in 2009 by Azro Press ad now available on Kindle Vella).
As one of four artists on the first mural arts team at the Philadelphia Museum of Art Community Programs Department, Mayfield worked with Clarence Wood and Don Kaiser, the dynamos who brought contemporary mural art to Philadelphia.
In 1991, Mayfield moved to northern New Mexico where she studied monotype printmaking with Garner Tullis, Richard Tullis and Larry Bell at the Santa Fe Art Institute. Her work has been represented by galleries in Philadelphia, Washington DC, Stamford, Connecticut, and Santa Fe, New Mexico. Her artworks are part of public and private collections across the country.
She began her career in color consulting in 2015 with the Benjamin Moore Paint Co. Now an independent color consultant, Mayfield serves residential and commercial clients who seek an artist's eye and color expertise and sensibility when choosing paint colors.


Barbara shares with us how art is an integral part of her whole life. She was raised by an artist and despite being encouraged to pursue more lucrative careers, she never really found another hat that fit.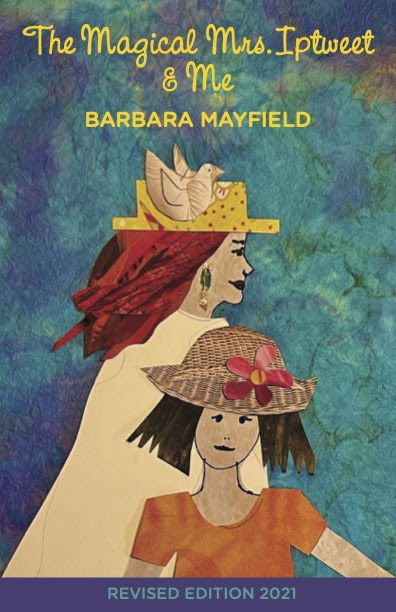 In the episode, Barbara reads an excerpt from her book: The Magical Ms.Iptweet and Me. (You will find the link to preview it on Kindle Vella below.) She tells the fascinating story of how the book came to be. She reinforced my belief that allowing yourself to dream (and keeping a pencil and paper by your bed) has real world implications!
We talked extensively about the power and importance of choosing and hanging artwork at home.
As well as:

How and where to find local artists.
How to communicate with them (they are mostly introverts, so this is important!)
Wall colors that work best with art.
The importance of positioning.
The healing powers of a color-aligned home.
Why you SHOULDN'T test out a wall color by painting a sample on the wall.
How and why to carve out space for your creativity.
And so much more!




     

                 
"Humans are makers."
-Barbara Mayfield
"When a life event happens, the house becomes a third layer of clothing, a layer of who we are."
-Barbara Mayfield  


Do you wish you had someone who understood your design style?  Who could help you find the things you see on Pinterest or in magazines?  Someone who you could bounce ideas off of and help you avoid costly mistakes?  (Login for access)
**Join the Portal for just $79 and get full access for 30 days which includes 2

30-min 1:1 design/color appointments with Lynne
 Discover the Monthly Design Portal
Featured Essential Oils


Cheer Benefits
Creates an optimistic, cheerful atmosphere with a warm, citrusy, and spicy aroma

Inspires an energizing and positive environment




Has been known to counteract 

negative emotions and boost optimism



*These statements have not been evaluated by the Food and Drug Administration. This product is not intended to diagnose, treat, cure, or prevent any disease.
** These links are affiliate links.  Lynne is a certified DoTerra wellness advisor and can help you get started on the path to natural healing.
DESIGN A BEDROOM THAT IS AS UNIQUE AND AMAZING AS THE GIRL WHO LIVES THERE
Great design goes way beyond bedding and wall color. 

It encapsulates the needs of the girl who dreams, sleeps, and grows there. 

It supports her changing emotions and grows with her ever evoloving needs.