Human Design in Your Home + Relationships:
WITH EMMA JENSEN
Have you fallen down the Human Design rabbit hole yet?  If you have, you know exactly what I am talking about.  It is one of the most fascinating things I have discovered in years!  If you HAVEN'T, this is the crash course you need to get started! 
My guest, Emma Jensen, is an expert in Human Design.  She is as knowledgable as she is passionate.  In the discovery of Human Design and her unique blueprint, she was able to uncover the root causes of chronic diseases that plagued her as she began to climb the corporate ladder to heal both her body and mind. You can read Emma's story below and connect with her directly to discover more about living within your design.
If you don't know what Human Design is, you are definitely going to want to tune in and find out.
In this episode, she describes each of the 5 types:

MANIFESTOR
MANIFESTING GENERATOR
GENERATOR
PROJECTOR
REFLECTOR
Do you know YOUR type?  Do you know what your UNIQUE BLUEPRINT looks like?  Your strategy?  Your Inner Authority? Here's a sneak peek at mine if you want an image to follow along with.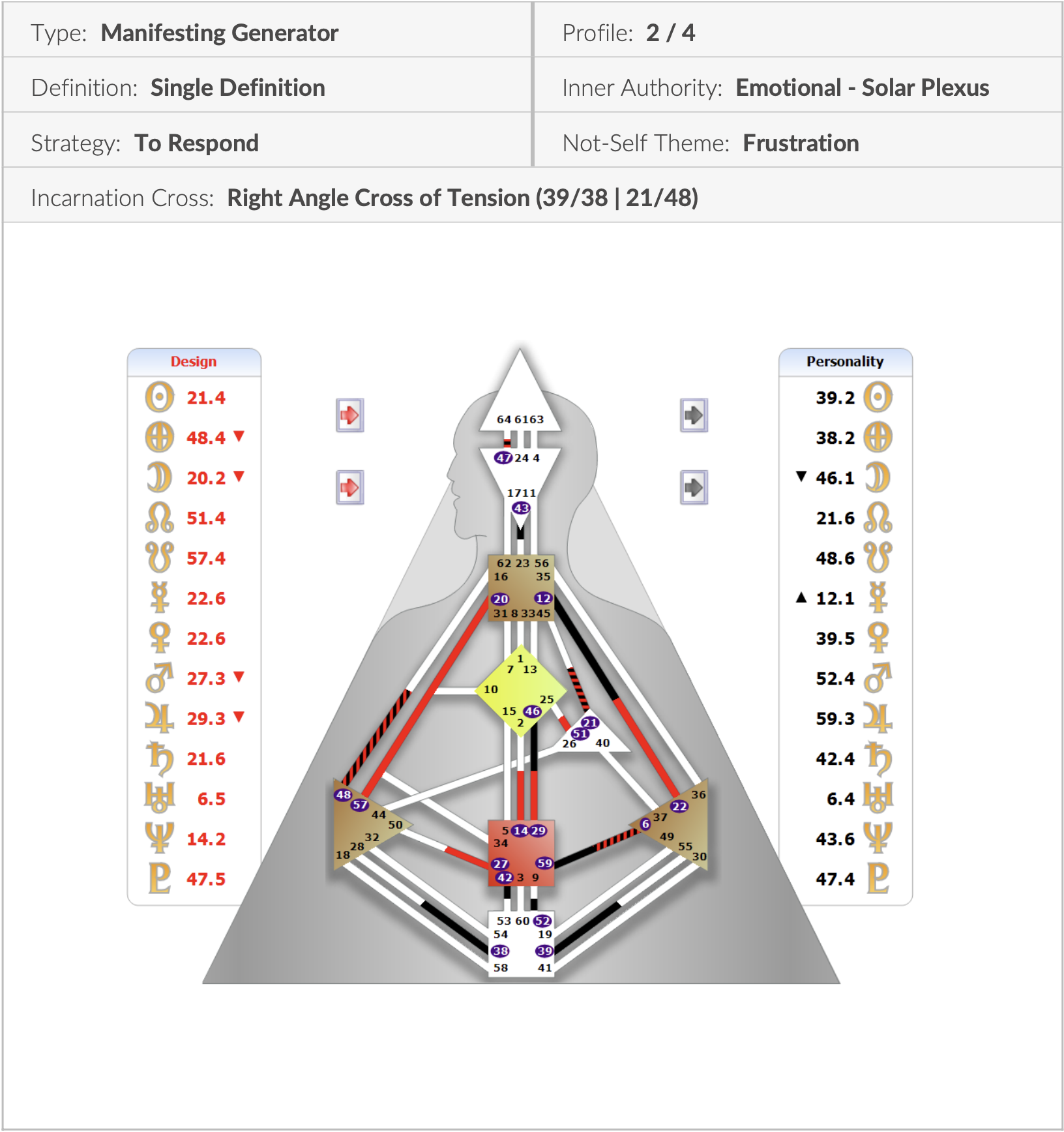 There are a number of free sites online to generate your chart.
You will need these 3 things:
Your date of birth
Your place of birth
Your exact time of birth (yes, it's that specific)
The sites that we recommend:  www.jovianarchive.com (everything is on one page) + www.mybodygraph.com (it talks to you and you can store multiple family members and toggle back and forth between them)
I am sure it tells you that I am an over-achiever somewhere in all of those lines and arrows!
WHAT YOU'LL LEARN...
what Human Design is and how it differs from Astrology and other philosophies

what role each type plays in society

how to identify when you are living in (or out) of your design

how understanding our design can enhance our understanding of ourselves

how it can also improve our relationships by helping us understand and have compassion for others

what we need to know to keep from burning ourselves out

which type NEEDS a well designed environment to function

what roles our design plays in how we function well (or struggle) in life, love, and business



This episode is a long one.  We cover a lot.  There is so much to unpack and it is really easy to get carried away in all of the information.  If you were raised in a traditional Christian philosophy like I was, and believe that each of us is a divinely created human with a larger purpose on this Earth to share love and "do good work" like I do, you will love discovering the brilliant uniqueness that is YOU like I have.
While there is a lot of information about Human Design available online for free, the best way to tap into your true magic is to connect with someone like Emma who is skilled at looking at all of the design elements together to see the complete picture and understand the simple shifts you can make to improve the flow of your daily life.
Here are the ways to connect to Human Design Expert, Emma Jensen:
READ EMMA'S STORY:
Emma grew up in the corporate and government worlds. Never knowing what she wanted to do she followed in her Dad's footsteps and went into law enforcement. After a short stint she went into the corporate world and eventually transitioned into working for herself, pivoting completely. She has worked for big companies: United States Secret Service, Nike and Apple, but always felt like her impact was meant to be more meaningful and bigger than what she was doing. It was through her personal development journey that she found her way to her current calling, Animal Communication and Healing and Human Design.

Now she lives within her Human Design and creates the impact that she has been longing for all those years. She works with individuals, coaches and groups in embracing their authenticity (using Human Design as the tool). Helping them to understand their unique blueprint, which in turn sets them free from the box and chains of conditioning most of us live in and deepen the compassion for self and others. This is the work she was put on this Earth to do and she loves every second.
 FOR HELP WITH INTERIOR DESIGN BASED ON YOUR UNIQUE MAGIC...
For questions or comments on this or any other In Her Eyes Podcast Episode.  Head over to the Forum and get the conversation started! 
DESIGN A BEDROOM THAT IS AS UNIQUE AND AMAZING AS THE GIRL WHO LIVES THERE
Great design goes way beyond bedding and wall color. 

It encapsulates the needs of the girl who dreams, sleeps, and grows there. 

It supports her changing emotions and grows with her ever evoloving needs.